2021: a good year for unicorns
According to Financial Times backed platform Sifted, 121 European companies qualify for the label unicorn in 2021. A breathtaking 68 companies newly joined the unicorn list last year. For our research, we've taken the Sifted definition for European unicorns as leading. We used publicly available data to check what platform the companies use, like Google Workspace, Microsoft Office 365, or other solutions.
Examples of European unicorns
Among the list of European unicorns are a lot of companies that operate within emerging industries like FinTech (Bunq, Ledger), sharing economy (BlaBlaCar, Flixbus), or food delivery (Picnic, Gorillas, Flink). It's fair to say that all 121 unicorns are market disruptors, known for their innovative ideas.
Google Workspace usage
By far the most unicorns from 2021's list use Google Workspace (69%). A minority uses Microsoft solutions (14%). The rest of the companies use other tools, perhaps on-premise solutions, or the tooling isn't detectable publicly. The latter is possible when companies use for example email forwarding services.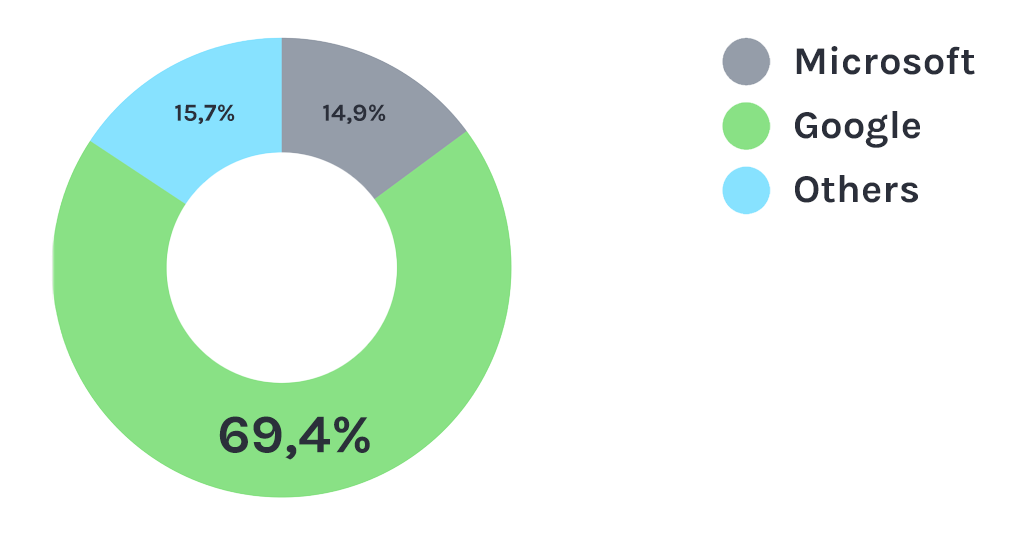 Digital natives
Most scale-ups attract younger, digital-native employees. A generation that demands effective digital collaboration, instead of using old tech (think about VPNs or emailing different versions of the same files). Google Workspace is known for productivity & collaboration, a solution that was born in the cloud instead of building upon classic ways of working.
Work Transformation
At NextNovate, we design digital workplaces together with large enterprise customers. Google awarded us the Work Transformation – Enterprise specialization, for a proven track record in getting the most out of Google Workspace at large organizations. We believe in best-of-breed technology and work closely together with Google, Okta, and Meta. Read more about us.
Conclusion
So what do we know after discovering these numbers? We've always thought Google Workspace and innovative scale-ups are a perfect match, these figures show we're not alone in this thinking. With Google Workspace you can easily scale up and grow your business. We love to hear your thoughts! Drop us a line at sales@nextnovate.com if you like to share your opinion.
* The definition used by Sifted is slightly more specific, it also adds that the company must be privately held, venture capital backed, founded after 2005, and their HQ must be in Europe.